THE 12 BEST PRODUCTS OF IFA 2019
It is tech heaven inside the sprawling Messe Berlin exhibition hall for the next five days, as firms from around the globe converge on the German capital of Berlin to show off new products to millions of attendees, all swarming the halls hoping for a glimpse of the future.
The European city is home to IFA, one of the world's leading showcases of consumer electronics and home appliances. For almost a week, some of the biggest electronics companies in the world are there, including Sony, Samsung, Lenovo, Acer and Huawei. The 26 massive halls are filled with phones, laptops, TVs, smart home products, audio gear, accessories and even AI-enhanced kitchen hardware. Newsweek has joined the masses of gadget fanatics to bring you some of the best products announced during the event this year.
Samsung Galaxy Fold
The Samsung Galaxy Fold is back. Following a tumultuous few months, sparked by the device literally breaking in the hands of reviewers, it was more important than ever that the futuristic bendy smartphone-slash-tablet made a good impression. And it clearly did, as swarms of people circled the stand inside Samsung's vast tract of the conference, gawking for a glimpse of the handset that is set to launch in the U.S. in the coming weeks with a $1,980 price tag.
It remains to be seen how many of those people will actually pay the premium cost that goes hand-in-hand with being an early adopter, but there's nothing on the market right now quite like the Fold. Complementing the design, it has 5G-ready technology promising unprecedented speed, six cameras and a Qualcomm Snapdragon 855 CPU. For now, until we can get it in our hands for a full test, the obvious top-level appeal is its unique design. It opens like a book, transforming from a 4.6-inch phone screen to a 7.3-inch tablet in a single motion. The Fold represents the first major design change to phones in years. It may well be the future.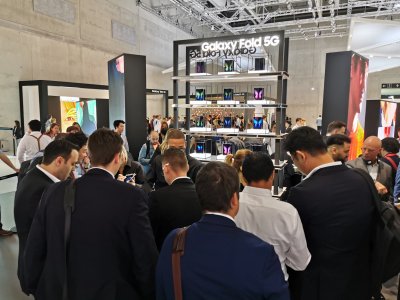 Sony Walkman
Everyone has a soft spot for retro technology. Taking advantage of the recent 40th anniversary of the Walkman's first release, Sony took the chance at IFA to show off the NW-A100 TPS, a 16GB modernized version of the music player that tugs on the heartstrings with a cassette tape interface and cover. The limited-edition model that was on display drew constant attention from passers-by; not all old enough to remember having to manually rewind. Ditching batteries and tapes, the A-series comes in a variety of colors, runs on the Android operating system and has a USB Type-C port. U.S. pricing was not confirmed, but it goes on sale in Europe this November for €440 ($485). Now that phones are de-facto music players, it's unclear if the Walkman has mass appeal. But it turned many heads during IFA, proving the brand's nostalgia factor remains strong.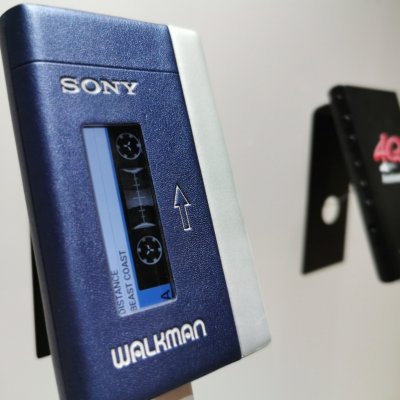 Lenovo Yoga Smart Tablet
Smart home hubs are spiking in popularity thanks to Amazon and Google, and these days many households will have a tablet or two dotted around. Combine those trends, and you get the Lenovo Yoga Smart Tab—a brand new 10.2-inch display that comes bundled with Google Assistant's Ambient Mode, giving it access to functions like weather reports, reminders and music controls. The design means it works as a portable tablet and a home hub simultaneously, and can stand up on any service with a neat kickstand built into the hardware. For users, it offers the best of both worlds. A gap in the stand also lets it hang from a wall, which is a unique take on the typical hub design. It hits the U.S. later this year, reportedly in October, for $249.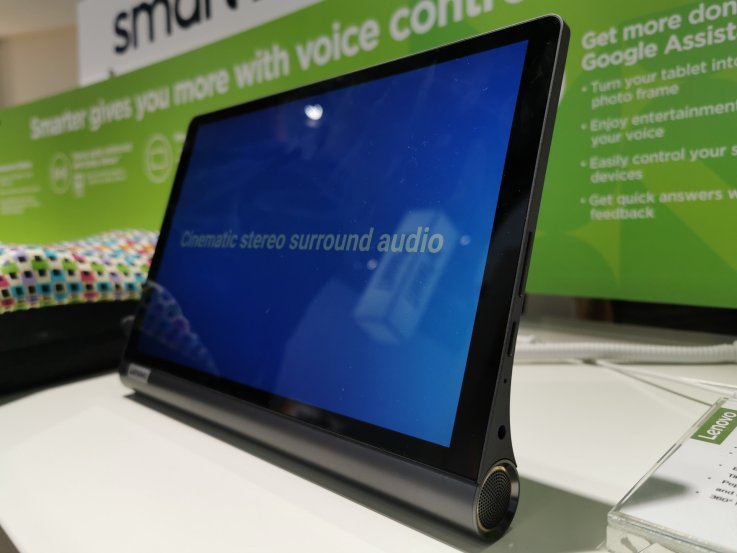 Panasonic Transparent OLED TV prototype
What does the future hold for the humble television? Sure, resolution will get better, bezels will get smaller and hardware will get slimmer. But going in a different direction during IFA this year, electronics giant Panasonic was showing off something different altogether: a TV proof of concept that transforms from transparent glass into a full OLED display. The components are hidden inside a designer wooden frame and Newsweek was told the intention is to have the set blend naturally into a consumer's home. It was stunning stuff. However, the firm stressed it still remains a prototype, so don't expect it to be in your family room any time soon. When asked how much it costs, a representative said was "prototype prices." Make of that what you will.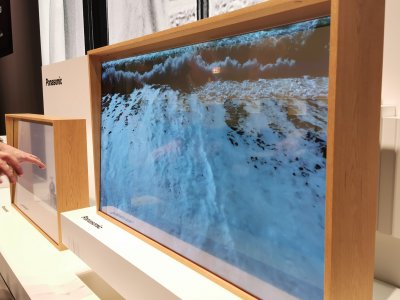 Sony Xperia 5
The Xperia 5 is a new flagship smartphone from Sony that stands out from the crowd. With a unique 21:9 ultra-widescreen aspect ratio, which the company says is perfect for video content, the narrow handset will be a perfect fit for anyone who isn't a fan of chunky phones. Despite its appearance, the phone still boasts a large 6.1-inch screen, and is essentially a slightly smaller version of the recent Xperia 1, which clocked in with 6.5 inches. It feels great in the hand and Sony says the triple-camera setup is equipped with new auto-focus tracking tech and optical image stabilization. For gamers, it is also compatible with the DualShock 4 controller. The U.S. price remains a mystery, but will cost €799 in Europe, so it's likely to be about $880.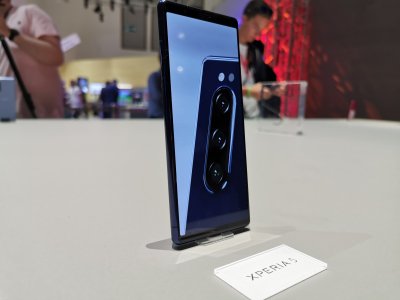 Acer's Predator Triton 300
Acer put its flagship gaming laptop range, Predator, front and center this year, showing off a new slimline product dubbed the Triton 300 that will make portable gaming more accessible than ever. Powered by Windows 10, the device has a cool aluminum chassis and matte black design, but doesn't skip the bright colored lights and keys the brand is known for. The Triton 500 also got a significant upgrade, now coming with a 300 Hz 15.6-inch HD display. Adorning the company's stand was a huge triple-display gaming chair made of steel called Thronos, which came out last year and set consumers back a cool $29,000. This time around Acer announced a pretty imposing upgrade, called the Thronos Air, which will be available later year for $13,999. It looks like something from The Matrix. Which is very cool, obviously.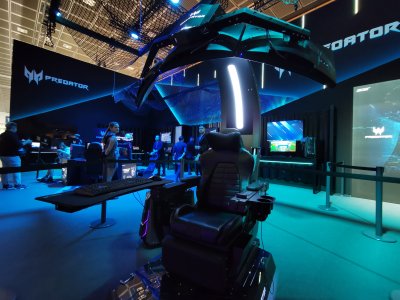 Asus' futuristic ZenBook Pro Duo
Are you bored with the traditional laptop design? Asus' ZenBook Pro Duo may be what you are looking for. It's dubbed the "laptop for tomorrow" for good reason. The design is unlike anything else out there. Sitting above the keyboard is a large second screen that spans the full width of the computer and can be used as an area to display another window. It is designed with content creators in mind, and as such performance stats are strong, boasting a 9th-generation Intel Core processor and an Nvidia GeForce RTX 2060 GPU. The main screen is no slouch, either, with a 15.6-inch 4K display and touch functionality. If you love multitasking but hate the small screens of most laptops, the ZenBook Pro Duo could be the answer to your prayers. Of course, extra real estate isn't cheap. The laptop, which launched this month, starts at $2,499.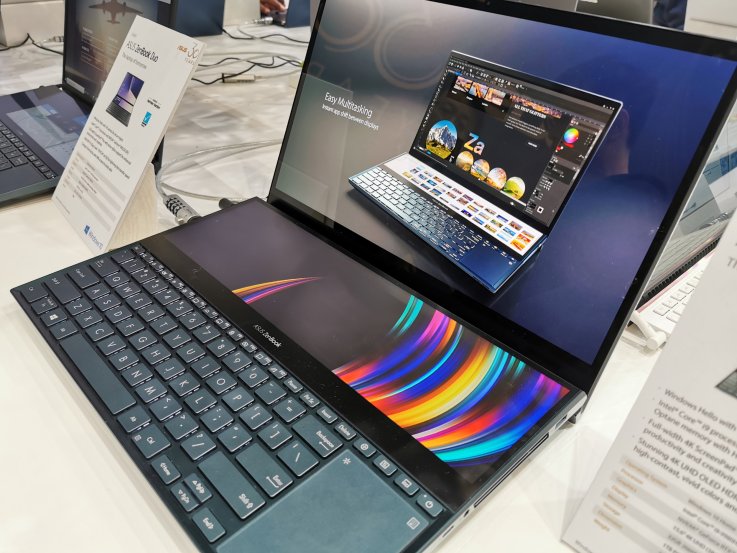 The Tumbler Batmobile
The mobile tank-like Batmobile made famous in the Christian Bale-era of Dark Knight movies was one of the first things Newsweek walked past during a guided tour of the Panasonic booth. Tim Burton's 1992 Batman Returns was also being displayed on a large TV, so it tangentially fitted with the tech theme. Yes, it came in black. But no, it was not available for a ride-along.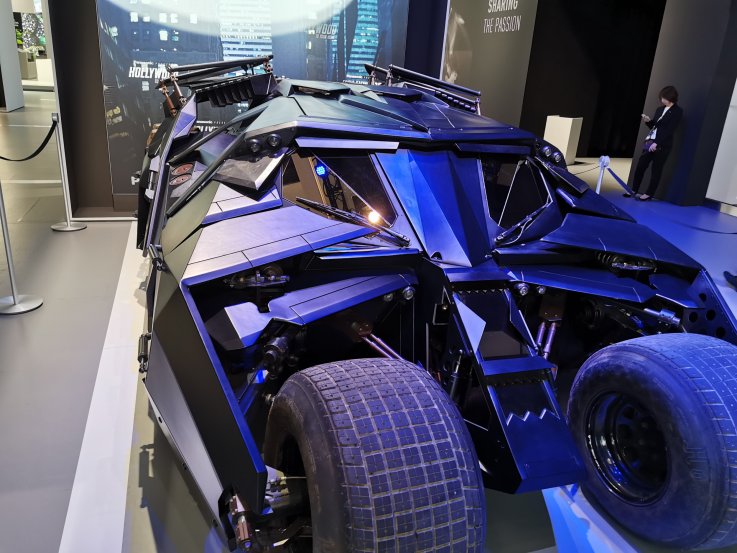 Nokia 2720 Flip
Not every smartphone maker is looking to the future. HMD, the company that is responsible for Nokia-branded mobile devices, was showing off a glorious re-release of the 2720 flip phone. It fit nicely in the lineup basic other recent re-jigs, including the Nokia 3310 and Nokia 8110, and comes bundled with modern software such as WhatsApp, YouTube, Facebook and Twitter. The 2720, which releases this month, is not going to break the bank at $98 and is available in several colors, including blue, black and pink. What it lacks in performance, it more than makes up for in accessibility, with large buttons, an emergency calling feature and Google Assistant. If all else fails, the classic flip gives off an extremely satisfying click. And, yes, of course it has Snake.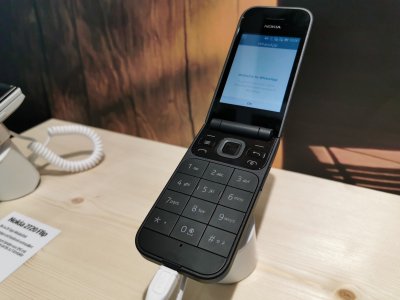 Huawei 5G Chipset
The Chinese tech giant was on full display during IFA despite recent controversies in the U.S. It showed off a slew of laptops, phones and smart home products, including the P30 Pro and Matebook X Pro. On stage, consumer division CEO Richard Yu gave a keynote confirming the release of a new 5G chip called the Kirin 990 5G, alongside a set of noise-canceling headphones and an updated version of the P30 Pro smartphone that comes with the latest EMUI 10 Android software and in two new colors—Mystic Blue and Misty Lavender. The dual-tone Google Pixel-like finish is an attractive design addition to an already fantastic flagship handset. The 5G chip that will play the largest role in future Huawei devices, and will reportedly be inside the upcoming Mate 30 Pro, a new flagship phone that is being unveiled to the world on September 19.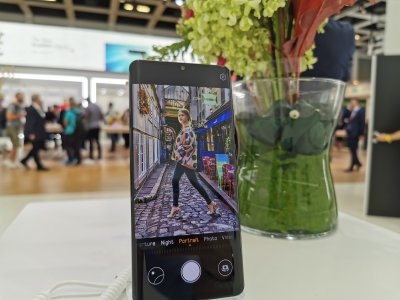 Samsung Galaxy A90 5G
Not one to fall behind, Samsung showcased another a new 5G-enabled smartphone: the Galaxy A90. Right beside the Galaxy Fold, which also boasts 5G internals, the A90's focus is about using next-generation tech to boost performance of video recording, gaming and streaming. The A90 comes with a large 6.7 inch OLED display, four cameras and a 4,500 mAh battery. For Samsung, the upgrade appears to be tactical: adding 5G connectivity to as many of its devices as possible. When the technology finally becomes widespread, the company will be ready.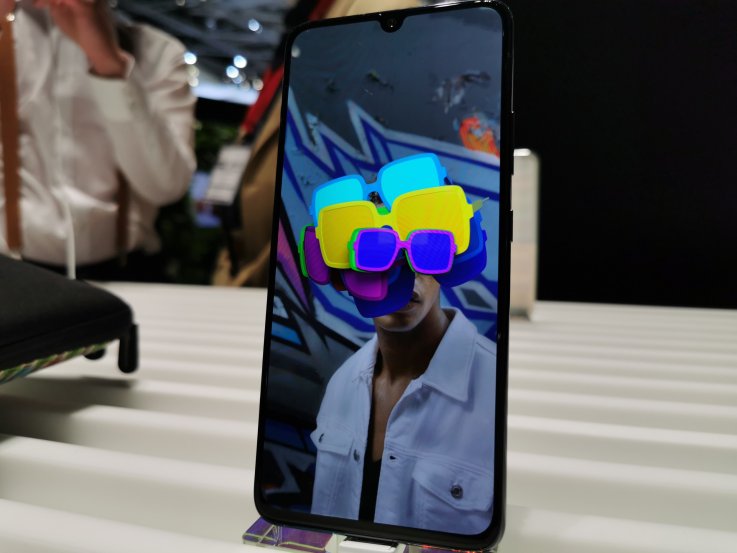 Popayán Colombia https://www.pagina100.com
Fuente: / Source: www.newsweek.com